Stay up to date with SYNERGY MOON in the news and see the feedback we are getting from across the web. Visit this page again for updates and be sure to stay connected to the big announcements from us via our SYNERGY MOON tweets available at twitter.com/synergymoon.
If you're a member of the press, or even an eager blogger, we have designated members of our awareness and outreach department ready to work with you, so don't hesitate to contact us.

XPRIZE Verifies Launch Agreement for Team SYNERGY MOON, as Third Google Lunar XPRIZE Team Pursuing a 2017 Lunar Mission
SYNERGY MOON Team Member Interorbital Systems to Serve as Launch Provider

LOS ANGELES (August 30, 2016) - Today, XPRIZE officially verified Team SYNERGY MOON's launch agreement as part of the $30M Google Lunar XPRIZE, a global competition for privately-funded teams to land an unmanned spacecraft on the surface of the moon by December 31, 2017. The SYNERGY MOON mission will use a NEPTUNE 8 rocket, built and launched by Interorbital Systems, to carry a lunar lander and at least one rover to the surface of the moon, launching from an open-ocean location off the California coast during the second half of 2017.

Team SYNERGY MOON is one of three Google Lunar XPRIZE teams now set to compete in 2017, joining SpaceIL and Moon Express. The remaining 13 teams have until December 31, 2016 for their launch agreements to be verified by XPRIZE in order to proceed in the competition.

"SYNERGY MOON's launch agreement is a hallmark achievement that we are very proud to verify," said Chanda Gonzales-Mowrer, senior director, Google Lunar XPRIZE. "In the spirit of XPRIZE's belief that the power of competition can spur outside-the-box innovation, SYNERGY MOON has blazed their own path and demonstrated that there is more than one way to get to the Moon." Team SYNERGY MOON is an international team with working groups in more than 15 countries. The team includes Randa and Roderick Milliron (Interorbital's co-founders) from the Ansari XPRIZE, the very first XPRIZE competition awarded in 2004 for suborbital spaceflight.

"We decided early-on that our focus would be two-fold: creating an alternative launch vehicle and launch process---the most expensive parts of current space missions---and getting more people interested, involved, and invested in the new space age," said Kevin Myrick, co-founder of Team SYNERGY MOON. "Partnering with launch provider Interorbital Systems allowed the team to aggressively pursue both goals."

SYNERGY MOON is utilizing a customized rapid-response and low-cost N8 modular rocket system designed, built, and tested by Interorbital Systems at their Mojave Air and Space Port rocket factory and test facility.

To win the Google Lunar XPRIZE, a privately funded team must successfully place an unmanned spacecraft on the moon's surface that explores at least 500 meters and transmits high-definition video and images back to Earth, before the mission deadline of December 31, 2017.

About Team SYNERGY MOON

SYNERGY MOON was co-founded in 2009 by Kevin Myrick (USA) and Nebojsa Stanojevic (Bosnia and Herzegovina). We represent a collaboration of individuals from over 15 countries and our numbers are growing. Our company growth plan involves both private sector funding and the unique inclusion of high-profile sponsorship opportunities. Our technological innovations will make space travel and personal satellite launches available to everyone. Visit http://www.synergymoon.com for more information.

About Interorbital Systems

Interorbital Systems is a rocket, satellite, and spacecraft manufacturing company, founded in 1996 by Roderick and Randa Milliron. It is located at the Mojave Air and Space Port in Mojave, California, where the company maintains its headquarters/prototyping/manufacturing center and two private rocket engine test sites. Interorbital's NEPTUNE modular orbital launch system is poised to provide the lowest-cost access to space to date.

About the Google Lunar XPRIZE

The $30M Google Lunar XPRIZE is an unprecedented competition to challenge and inspire engineers and entrepreneurs from around the world to develop low-cost methods of robotic space exploration. To win the Google Lunar XPRIZE, a privately funded team must successfully place a robot on the Moon's surface that explores at least 500 meters and transmits high-definition video and images back to Earth, before the mission deadline of December 31, 2017. Visit http://lunar.xprize.org/ for more information.

Media Contact: Eric Desatnik 310.741.4892 eric@xprize.org

Team Synergy Moon Diversity In Space Pavilion
San Francisco Juneteenth Festival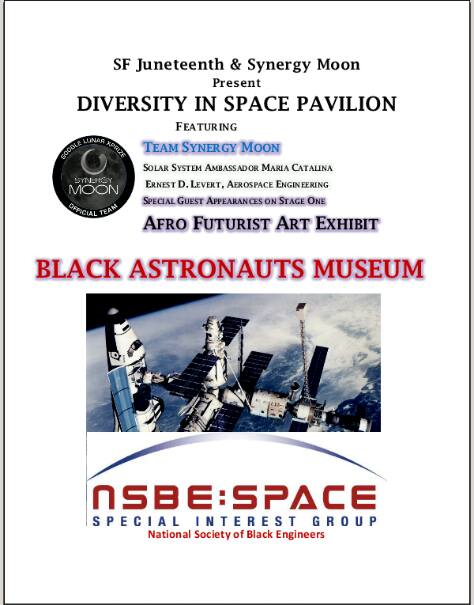 Celebrating Juneteenth
(Based on an article by by Lucia Simova and Su Wei Heng in the "NASA Ames Astrogram - July 2016", published August 5, 2016)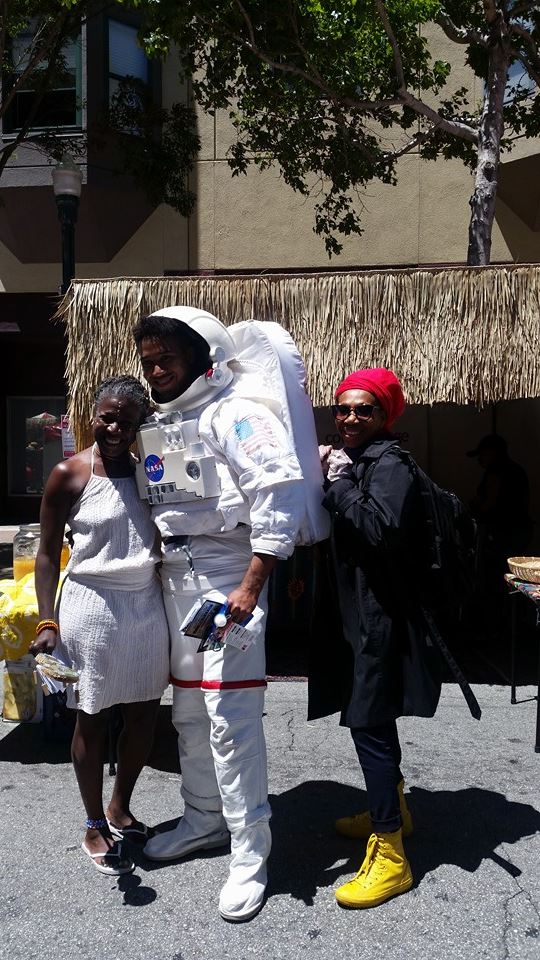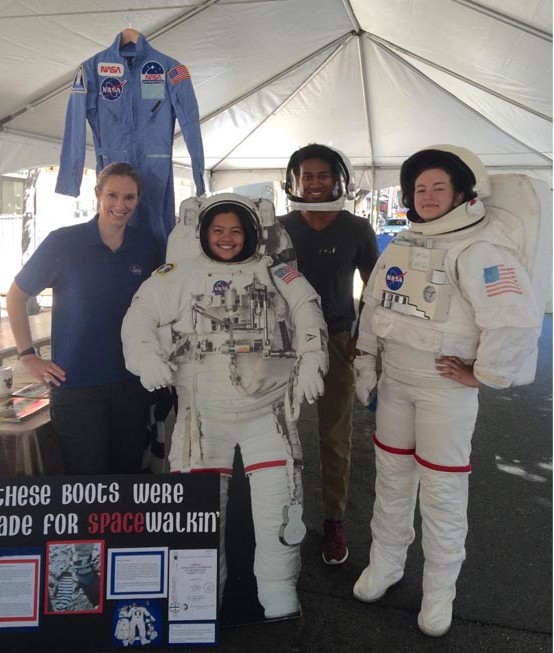 Left: Jaylyn McCook Spacesuited at the African Village with two "AstroGroupies" ;-)
Right: Lt. Cmdr. Leedjia Svec and interns Su Wei Heng, Jaylyn McCook and Lucia Simova stand in front of their Junteenth booth at the Synergy Moon Diversity in Space Pavilion.

On June 19, 1865, two-and-a-half years after the Emancipation Proclamation, Union soldiers led by Major General Gordon Granger arrived in Galveston, Texas, with the news that the Civil War had come to an end and that all slaves were now free. This historic date is now commemorated by cities across the nation in a festival known as Juneteenth. San Francisco held its 66th annual Juneteenth Festival on Saturday, June 18, 2016, in an event filled with food, live music stages and tents containing different organizations dedicated to outreach and education regarding their respective causes/missions. One row of tents, for example, was devoted to African culture, including food and dress. NASA's booth was nestled in the Synergy Moon Diversity in Space Pavilion and was represented by summer interns and their supervisor. On display was a presentation made by intern Jessica Feinberg, handouts from the Office of Education and Public Outreach and plenty of NASA stickers. The volunteers took turns wearing a spacesuit, which effectively drew in the masses to the pavilion. Adult- and child-sized spacesuit cut outs helped attract passers-by who were interested in photographs. The Pavilion also included a SpaceVR demo hosted by Blaze Sanders, Lunar Lander Simulations and video kiosks about African American Astronauts hosted by Synergy Moon's Kevin Myrick, and a presentation area sponsored by the National Society of Black Engineers:Space Special Interest Group and hosted by aerospace engineer Ernest Levert.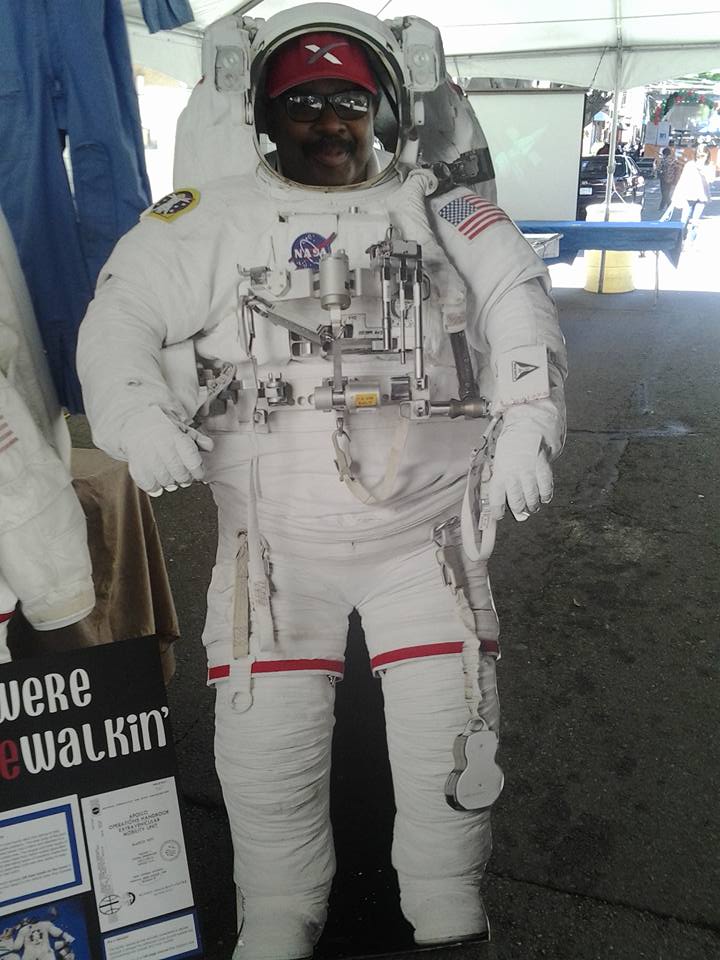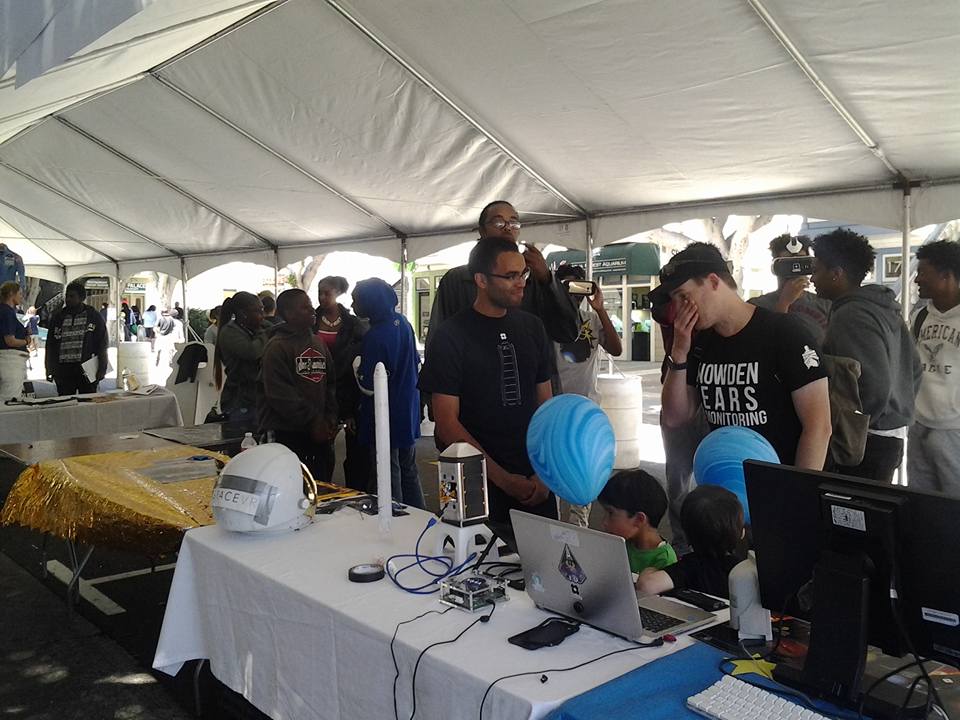 Upwards of a thousand people stopped by for a NASA sticker, and the majority of those exchanges led to conversations in which the volunteers answered questions about NASA Ames' current mission and increased awareness about NASA research programs. More importantly, the interns and Lt. Cmdr. Svec spent the day encouraging parents to cultivate their children's interest in STEM fields, and successfully increased the visibility and representation of African-American people in STEM, historically and presently.




Hundreds of attendees came to the NASA tent unaware that there were any African-American astronauts and left with new found knowledge. Ultimately, the team believes that some of the younger audiences, particularly the Mars generation, walked away inspired and with dreams of donning their own spacesuits one day.